Five Tips to Improve your Real Estate Website
The key to a great real estate website is its ability to bring new leads your way. How can your website rank above the others in area on search engine results pages? Once visitors are on your website, how can you capture their information? What steps can you take right now to ensure that your website is performing at its best? Here are five quick tips to improve your real estate website.

One: Develop your website to be mobile-friendly and responsive.
Having a mobile friendly layout is critical for real estate websites. If you haven't made your website mobile friendly, you should. The majority of users coming to your site are likely doing so from a smartphone, tablet or other handheld device. If your website is only optimized for the desktop computer, it is not performing at its best ability and you are losing out on traffic. Find out if your website is mobile friendly here, using Google's Mobile-Friendly Test.
What makes up a mobile-friendly website?
Responsive design, meaning it fits the screen size of the user's mobile device. Serves the same HTML code on the same URL regardless of the users' device (desktop, tablet, mobile, non-visual browser), but can render the display differently (i.e., "respond") based on the screen size.
Readable text, without having to pinch or zoom in.
Buttons and links that aren't bunched together, so that a user's finger can tap and not hit the button or link next to it.
Images that are optimized for each device. Large images can slow down lead-time on mobile, but can look blurry or unprofessional on the desktop.
Don't use Flash coding or other content that isn't viewable on mobile devices.
Two: Choose great web design, geared towards real estate.
The design of your website is just as important as its functionality. Have you ever been to a website and immediately press the back button to try another site? First impressions are crucial when it comes to web design. A design refresh can be a great way to improve your real estate website.
The look of your website should match your area served.  If your area includes beach real estate, your website images should show ocean front homes. If you serve a downtown area, maybe condos and multi-family housing should be included throughout the website. And, lastly, if you have mountains in your images, but serve the Midwest market, people will find your site un-authentic and move on to another one.
Another design tip that may sound obvious is to make sure that your contact information is easy to find. Consider Including your phone number, social media links, and email address in your website's header. Make the "contact us" page easy to find in your navigation. If you have a street level office that clients can visit, include your address in your website footer.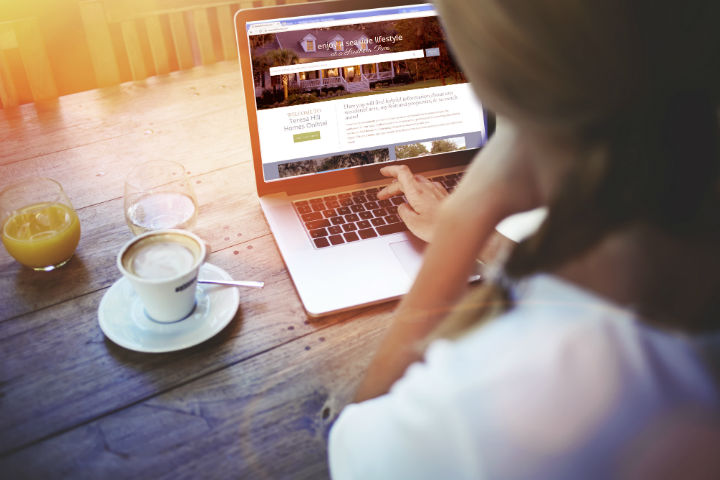 Three: Include a home search feature on your homepage.
There are only a few reasons people visit realtor sites, and searching for a new home is the #1 reason. So, give them what they want right away, or risk users bouncing to another website to find what they're looking for. Last month we wrote a whole article on why you should include an IDX feed on your real estate website. Check it out. SEO RETS is the easiest way to add a RETS feed if you are using WordPress for your website.
Other reasons visitors may be on your website are:
Looking for a realtor to list their home
Want to know how much their home is worth
Considering a move to your area, and are looking for neighborhood and basic housing information about the area
Four: Proof read, and check for errors on every page.
People expect their realtor to be completely professional and thorough. Broken links, misspelled words, missing images or other website issues can lead them to choose another agent. Proof read your website completely before launch, and then check it often to make sure nothing has changed. Ask us for a free site audit, we'll check for missing links or other coding issues on your website, for free.
Five: Consider including a real estate blog on your site.
Establishing yourself as an expert in the field of real estate can be tough. Including a blog on your website, full of house buying and selling tips can help. If you do include a blog, make sure to budget time, or hire a writer to include new blog posts every month. If a blog seems like too much work, maybe a frequently asked questions page for buyers, and one for sellers would be beneficial to your web visitors.
We hope you are able to use these tips to improve your real estate website. If you don't currently have a webiste, IDX Real Estate Websites is the perfect way to get your online presence established right away. Our sites are all developed with mobile audience in mind.  Each of our sites are customized to your market with relevant photography. Each includes a home search feed front-and-center. We can also help you with blog writing and other marketing efforts once your website launches.
Are you ready to get online with a new IDX real estate website?
Contact us at (910) 392-9887, or get started here.